Scandinavia
(please scroll to the bottom for the latest entry- also, if you roll over the thumbnail photos you will have the option to open a full-sized image )
location:

Copenhagen, Denmark


date:

08/30/2006

Laura's thoughts: It has not taken long to slip into the heightened state of awareness that travel brings. While starting our journey in Europe has provided a good transition from the comforts of home to the unexpected turns of more exotic places, Copenhagen still offers us much that is unfamiliar. For one thing, this wet stuff which falls from the sky more than half of the days here seems odd to our reptilic Arizona complexions. $8 lattes were also a shock to the system and they have inspired us to purchase a french press for making our own at home. However, we won't completely deny ourselves the cafe luxury since it is always the best way to watch people. Also new but welcomed are ample walking streets, lush green parks (some even wild enough to house giant blue herons and fallen trees), rows of multi-colored flats along the canals which checker this city and of course, the bikes, the bikes, the bikes....As I am sure Geoff will be excited to share our observations about this cycle-crazy country, I will leave these stories for his telling rather than to steal his thunder. Suffice it to say, the best image yet has been our 61-year-old host parents in tux and evening wear biking, 10k round trip, to a wedding from which they returned at 4 am!

photo caption: Nyhavn Canal, and gardens outside the Kunst Museum, Copenhagen


Other highlights have been an evening at a Danish version of the Painted Sky Music Festival. We heard everything from Bach and Schubert to Zappa and Mingus in a bar complete with disco balls and dry ice. These chamber musicians present a series committed to visually enhanced performance in untraditional venues, with hip concert dress and audience interaction. I was thrilled to witness these shared sensibilities even in Europe, the birth place of classical music. I have also loved connecting with our hosts, from whom we will actually now rent a room for our entire stay. Their whimsical, artful way of living and their youthful spirit reminds me of my Uncle Len, and they have already made us feel like family. I am also now enjoying completely unscheduled time which I am filling with writing, reading, exploring, and daily yoga. It is certainly a slower pace to my norm but I want to embrace it. So, I will sign off for now as I leave to meet Geoff at "work" for our first Danish date: dinner and a visit to the Design Museum which is free on Wednesdays. I can never pass up a good bargain.

Geoff's 1st week musings: MMMmmm, Hoogarden Beer on tap. Life is too short for: bad beer, bad coffee, and bad food- luckily, all of these are absent here, that is, except for maybe the Dominos Pizza delivery place that is directly across the street. Nowhere is perfect, though they come close here in a number of categories:

bicycles. Of course I would be cooler if I ignored the obvious, but alas I am not that Danishly cool nor aloof. After years of fighting for a couple of inches here and a few concessions there, it comes as actually mind-blowing to see an 8 foot+ bike lane on both sides of major streets, elevated from the roadway slightly, right next to the sidewalk, AND, if there is parking on the street, it goes between the bike lane and the roadway. The overall effect is mind-bendingly comfortable in the most urban imaginable environments. On that note, quickly, before I hit a state of full-blown diatribe, I will add that it was not necessarily easy for the City to create these lanes. The narrow roadway widths were established hundreds of years ago before multiple travel lanes and precious parking were in demand- so something had to give to create these bikutopias. The result is that 35% of people commute to work or school by bicycle. (their five-year goal is to increase that figure to 40%) ... all right, enough about cycling...for now.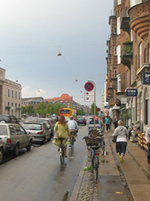 photo captions: standard bicycle lane for busy street, high profile parking for upscale neighbourhood
hospitality. Monday was my first day at work and I was asked to come in at 10 AM. I was met at the reception area by one of my email contacts Jytte, who introduces me to some of the people there, sets me up with keys, bus pass, train and metro passes and walks me out to the back parking area to pick 2 bicycles from there commuter fleet for our 2 month stay. (We had spent the last 2 weeks trying to find cheap used bikes, but nobody appears to do that here). I was then esorted up to my office floor, where I was shown my typically stylin Danish office digs and a common area with a stereotypical - for all the right reasons- beautiful long table, set up with the company's cool white ceramic place settings, candles, breakfast and coffee for the whole department to meet me. Oy veh, I immediately felt the pressure to contribute something useful.
speaking english. EVERYONE appears to have at least passable and commonly astounding english skills. Yet there is no sense of them expressing attitude because we don't. "We are a very small country and language, and we would be very isolated without being able to read and speak other larger languages, especially english." I am paraphrasing, but that is the explanation that I have received from several people. I don't think that it is easy to pull off this kind of openness and sophistication at the same time, but it makes it easy to visit.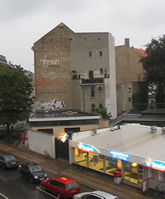 photo caption: Our Room With A View (yep, that is Dominos- take the good with the bad)
---
location:

Malmo, Sweden


date:

09/04/2006

Geoff: Malmo, Sweden is just across the narrow straights from Copenhagen. In fact the two countries and cities were recently joined by an incredible bridge that is 8 KM long- you may have read about it in the papers about 5 years ago because it is a feat of engineering. Anyway, 20,000 people now commute from Malmo to jobs in Copenhagen by car or 35 minute commuter train from the downtown station. We took the latter today, right from our local station for our first taste of Sweden. Wait a second, more tall blonde people with impeccable English and Kroner for currencies...hmmm. The Swedish and Danish languages are apparently very closely related (as is Norwegian, but Finnish is from another planet all together). To the ear they sound quite different and Malmo does have a very different feel than Copenhagen. So, as an ignorant North American it is another language that I will not even bother trying to mangle. In fact while I was talking to the Barista making us fine espresso drinks, I asked if it was worse of a faux pas to be impolite and just start speaking English to people or insult their intelligence by prefacing every exchange with "Do you speak English?" He thankfully confirmed that everyone speaks English to some degree, especially in the service industry so don't waste your time with the niceties. (Maybe he was setting me up to come across as a rude bastard wherever I go for the next two months. oh well.) Malmo seems it is more working class- in a down to earth sort of way- and most of the architecture is from the 19th Century. Stunning parks everywhere and more walking streets along canals.

photo captions: Twisting Torso and surrounding developments, Malmo, Sweden

It's current claim to fame, and curiosity for me, is the new development occuring along the sea surrounding the 190 metre high Twisting Torso by architectural superstar Santiago Calatrava. It actually twists 90 degrees from bottom to top which has some dizzying visual effects. The tower was spawned in the middle of an extremely cool mixed use housing experiment called Bo01. I have been reading about the area for several years and both Laura and I were stunned that it was actually more impressive than the hype. From the onset the project has involved a large variety of architects and urban planners and designers. It does not feel cookie cutter like many similar experiments in North America that were created by one large developer. Even though it is probably only in its beginnings as a neighborhood, there are art galleries, cafes, and other shops well established. Only 5 minute ride from the City Centre, we both agreed that this is our sort of dream place. I could also get used to only working four days a week. These long weekends make for relaxed travel weekends.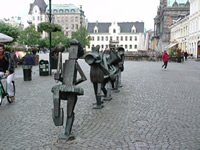 photo caption: Sculptures along the Sodergatan in Malmo
---
location:

Copenhagen


date:

09/12/2006

Laura's Thoughts: It's officially an adventure now that both Geoff and I have bled from bike accidents (an especially appropriate motto for Geoff who has taken the "it's all fun and games... " expression a little too close to heart, as we all know). Mine was a beer induced misjudgement of curb height, and his happened while borrowing a friend's old mountain bike, whose metal pedal bit him hard in the shin when the chain jammed. Anyway, I am finding it thoroughly enjoyable shifting from tourist to resident. A greater familiarity with the city saves me lots of time each day since I no longer have to fuss with finding basic things (post office, pharmacy, street signs, groceries for dinner). The latter, however, has been a challenge - especially peanut butter, tofu, and pomegranate juice - three of my staples at home. Instead, we are experimenting with herring, potatoes, and elder flower jam ... "when in Rome". Alas, the danes are not known for their cuisine. But they seem to outdo the rest of the world in most arenas - most significantly: design, social services, and transit. Geoff and I continue to be bewildered by this government's ability to pay new Moms 100% of their salaries for 12 months, provide free health care (even to visitors needing emergency care) and to take on huge civic projects (beautifully reconstructed beach fronts, major road projects, a huge inspriring new library, infinite grants for artists). All while they leave no citizens homeless or poor - REALLY! Denmark has the smallest disparity between their rich and poor in the world. It is truly Canada to the tenth degree and we all have a lot to learn from them.

My most noticable observations, so far, have been to see 16-year-olds drinking publically (perfectly legal), people biking with cellos on their backs, women taking dogs into fancy boutiques, elderly men in wheelchairs whizzing past me, confident of their safety in Copenhagen's well protected bike lanes, and hundreds of hair salons which support the Danes obsession with remaining toe heads until they die. In other words, if we reinvest our house money into a Danish blond hair dye company, I am sure that we can keep travelling for the rest of our lives. So, I will conclude with a brief description of my favorite day yet - a perfect balance of nature, culture, food and fun. It began with a yoga class at a center which I now frequent. They offer vinyasa, hatha, ashtanga, and anusara classes in English - the perfect non-denominational setting for me. Then, Geoff and I biked 10 k to this well developed beach with our speed demon hosts who think nothing of blowing red lights and ignoring one-way signs. There, we took our first dip into the Baltic Sea - finally we had a sunny, 75 degree day. Afterwards, we cycled through Christiania, Copenhagen's free society which has existed since the sixties and still maintains independence from the EU. Mostly hippies and artists live there in vans or funky hand-built homes, and almost every corner of their village is covered in murals ( a fancy word for graffiti). Next, we visited the Danish Architecture Museum followed by a sensational Indian dinner and a bit of the US Open men's semifinal which was playing at a cool, albeit smoky, bar with 50 varieties of Belgian style beer. MMMM...this is the life.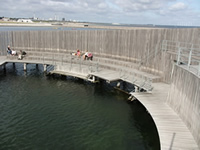 ---
location:

Berlin, Germany


date:

09/28/2006

Laura's thoughts: Well, the mohawk is alive and well in Berlin. Perhaps when the wall went up in '61, all fashion trends froze in time, then in '89 they picked up where the rest of the world left off. That would put them about 28 years behind the trends which is pretty well in line with our observations. We counted 17 mohawks in less than 2 days and two of these were on 7 year-olds! Bad hair aside, this city of contrasts has so much to offer. It was fascinating to learn about the Wall, not only its destruction but its inception. We visitied Checkpoint Charlie where it all went down in '61. Another highlight was the Jewish Museum, incredibly designed by Daniel Liebeskind (one of the architects chosen to design the WTC memorial site). Every detail of the structure's interior and exterior represents the Jewish experience symbolically (beauty, resilience and strength combined with isolation and oppression). The exhibit takes you through Jewish history before biblical times to present day in a very personal way. So, while I am a shamefully bad Jew who walked 5k to visit the Museum on Sunday, only to learn that it was closed for Rosh Hashana, I redeemed myself by repeating the walk the next day to make sure I did not miss this special place.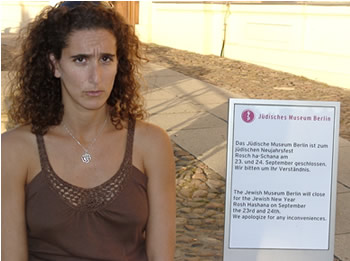 photo caption: Bad Jew
And walking was the theme of the trip. We probably coverd 40k in our whirlwind weekend, which was made throroughly enjoyable due to 80 degree Indian Summer conditions. And after a month of bad 10 dollar egg and shrimp salad sandwiches and 3 dollar cokes, we were relieved to gorge ourselves on half litres of delicious German wheat beer for $3 and giant bowls of pasta for 5. Also in keeping with our usual motto, all of the exercise allowed us to eat and drink with impunity. Plus, we were right in step with 40,000 other Berliners and visitors who were in town for the Marathon. Although that meant there were "no rooms in the inn" all over town and we had to stay on the outskirts, it made for a very inspirational weekend. It's a huge, very inclusive event with rousing crowds all over town. So, we were glad we caught it even though it curtailed some of our plans.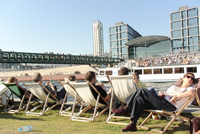 photo caption: weissbiers on the Spree overlooking new Central Station
As usual, I am rambling, so I will leave the descriptions of the many sites, museums, and architectural wonders to Geoff. But, now that our Eurail pass has kicked in we begin the more mobile part of our journey. So, we will try to share a new entry each week until we leave Europe on Nov. 20, by which time we will have visited 10 countries. Though this kind of cursory travel only gives one a superficial glimpse of a place, we feel too close to so many amazing destinations to miss them. So, our more relaxed time staying in Copenhagen for two months will be balanced by this next few weeks of zipping around the continent. Amsterdam's next, so until then...
photo captions: Straddling the former wall, marathon runs right past the Kaiser Wilhelm Church
---
location:

Amsterdam, Netherlands


date:

10/03/2006

Laura's thoughts: I could not believe how much more I appreciated this city on my third visit, even though I loved it during each previous trip. When I first visited in 1989, I was barely drinking age in the US, and the Grasshopper Bar which legally sold space cakes and magic mushrooms left the largest impression. In 2000, on a "pack-it-all-in" 12 hour lay over, en route to Morocco with Geoff, I most remember drinking Illy coffee in a cafe overlooking one of the seemingly infinite number of canals, watching a party of someone's friends row up to their patio table for a birthday surprise. With just a bit more time (48 hours) on this visit, and slightly different sensibilities, we were able to enjoy hours of meandering through narrow streets, and multiple stops at hip hotels, cozy cafes, and belgian beer hovels. The image of this enchanted place now imprinted in my mind will be the crooked rows of 200 year old homes lining every street, each sporting a different color, shape, and design. And if one has the time to weave through these neighborhoods aimlessly, they will find galleries with art whose quality surpasses that in any museum, and specialty shops selling everything from polyurethane designer sinks to first edition antique books. Another surprise this time was the Oud Zuid district which offers Art Deco fans dozens of structures with elaborately onnate and beautiful fountains, doors, stained glass windows, mosaic features and gargoyles. In this way, the area reminded me of Barcelona, one of my favorite European cities.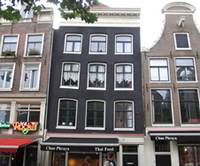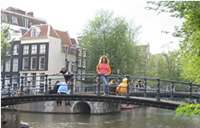 photo caption: tilting buildings, and pedestrian bridges galore, Amsterdam
All of these wonderful features outweighed any of the disappointments we encountered on the trip. Unlike our standard form, we had actually researched this city a bit, and thus, held high hopes of seeing some great live jazz, attending the famous Stedlijk Museum of Modern Art, and eating Indonesian riestofel (popular ethnic fare in Amsterdam). On all three acounts we were thwarted. Though we passed several restaurants serving the latter, it was either at the wrong time or the wrong price. Due to renos, the museum had moved and closed its permanent exhibit. And though the music we found at Amsterdam's funky new venue, the Music Gebaus V'IJ, called itself jazz, Geoff more approriately referred to this melodramatic and hyper-affected singer as Uruguay's answer to Celine Dion. She may have hit a few sultry tones, but we'll remember more the hundreds of times she hiked her skirt above her knee or held her hand to heart, moved by a tres fromage moment in the musak she was performing. While we would have preferred to catch John Abercrombie, who graced the same stage only last week, you can't buy the pleasure we experienced laughing uncontrollable tears as she told the audience about how her final selection was inspired by the "stars as they fall from the sky bringing a wish to my heart". It sounded much funnier at the time, so maybe the space cake fumes had rubbed off. But either way, I just love how the wrong turns of travelling often produce the greatest rewards.
Geoff: The Netherlands now makes it four countries, where I have absolutely mangled the language upon every attempt and where I have benefited from the ubiquity of English as the second (or third, or sixth) tongue of all Northern Europeans. Being a bike and urban design nut, the Netherlands stands as the Holy Grail of progress. Amsterdam and Copenhagen seem to have similar quantities of bike use, but with an even denser population and web of streets, the City Centre of Amsterdam is sensory overload. Add to that equation a pedestrian population that does not adhere to the laws with the same reverence as the Danes and the scene reminds me of the point in Asteroids where you are just hanging on.
As Laura mentioned, we hit a number of great cafes including a return visit to the Cafe Jaren, where six years earlier I had dropped a copy of Voltaire's Bastards by John Ralston Saul on the book shelf with a note in the front cover to send me an email if you were able to work your way through it. I had carried that tombe of social criticism by the Governor General's husband around for about 2.5 years, adding my own numerous annotations of sleep induced spittle stains across its pages- and had finally finished it on the plane ride there. Well, there was not sign of it in 2006 so who knows who else is being stimulated or tortured by it now.
While Amsterdam was a fair bit more expensive than Berlin, it was much cheaper than Copenhagen for us in the primary cost of living categories for us: coffee, food, and good beer. So we got pretty hammered on Saturday night sipping high-test Belgian Duvels. We finished the night at our excellent hotel the Lloyd, where every filmmaker, graphic designer, and architect worth their salt seems to now be staying. I had found it on Expedia after striking out with hostels and their 1 star rooms were only 80 euros- the same as a private room at a hostel if one had been available. The old building in the new hot spot of the IJ Het area was completely overhauled a couple of years ago and now houses the cultural embassy. I highly recommend it. (www.lloydhotel.com) The bed and the sheets were unbelievable and will probably be the last we see in that area for the rest of the trip- not that I am complaining...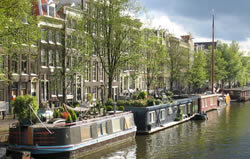 photo caption: houseboat chic, Amsterdam
Several observations:
1. unlike Michael Caine's classic line in Austin Powers 2, "if there are two things that I hate in the world it is people that don't respect other people's cultures,,,and the Dutch", everyone we talked to was unbelievably helpful, and friendly in a genuine way. This included the server at Jamie Oliver's (the Naked Chef) restaurant Fifteen, which is on the "A" list but does not have any of that attitude, through every other spectrum like the tram attendents. (The tram system is the best I have ever scene.)
2. Al Gore, and every other sane voice in the global warming discourse, have talked about how the Netherlands will get the decimated if sea level rises. I know that is true of tons of other areas, but it is so evident here seeing the incredible efforts just to minimize the damage of the status quo, were building foundations eventually sink and tilt. Maybe Ray Nagin will be the next global warming advocate.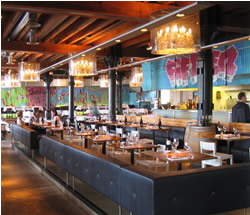 photo caption: Fifteen, Amsterdam
---
location:

Flam, Norway


date:

10/09/2006

Laura's thoughts: Full of novelty and spontaneity, our Norway adventure had all the makings of what I consider a perfect weekend. By 5 pm Thursday we were waving goodbye to Danish shores from the hot tub of our cruise ship's deck. A first for me, travelling in an 12-story floating city complete with cinemas, horse racing, wine bars and discos was a hoot. As usual, we had made our ferry reservations at the last minute, with no plans or booked accomodations for our 3 day Norway trip. So, once we departed from the boat at 9:45 am, we put our travelling saavy to the ultimate test. In a whirlwind effort, not unlike an episode of the Amazing Race, we found Oslo's central train station, browsed timetables for the entire country, made inquiries with the tourist info center, and acquired a list of hostels in our first 15 minutes. After deciding that our brief visit was best spent visiting one of the twenty natural wonders of the world, the Sognefjord, we booked a train and tram ticket to take us 6 hours away into the middle of the country, phoned the only pension in the tiny but spectacular town of Flam, which is nestled at the very tip of the fjord, reserved a room for the weekend, purchased two lattes to go and were off by 10:33.

photo caption: one of hundreds of waterfalls that drain into the Flam Valley, payola for our hike up the mtn side, Flam, Norway

What we found at the end of the train ride was worth all of the frenzy and then some. The 21-kilometer tram ride that completed the journey descended 1,000 harrowing meters through the most astounding alpine setting we'd ever seen, taking us straight to the foot of the world's narrowest fjord. Copenhagen, Berlin, and Amsterdam certainly had provided our senses with cultural stimulation, and a cosmopolitan life style, but after two months of urban living on very flat land, my body reveled in the fresh air, moist earth, and dramatic mountain scape. We enjoyed a few cozy meals in the town's only restuarant, took an exhilirating morning hike to only one of the hundreds of waterfalls we saw all weekend, and boat cruised through the towering spires and infinite chutes that surrounded this glacially carved, 100-meter wide slit in the earth. Most amazing was its resemblance to the spot we had previously considered the most beautiful in the world, New Zealand's Milford Sound. Coincidentally, we visited this fjord, at the opposite side of the planet, on almost exactly the same date last year. Though these magical places rival one another in beauty, there is no point in comparing their equally wonderful attributes. It is just fascinating to see such striking similiarities between landscapes situated at 54 degrees north and 44 degrees south of the equator. And I still marvel at our fortune in having been able to see both of these unique and remote corners of the globe.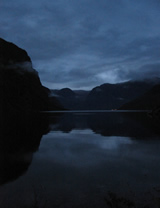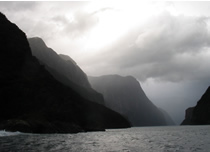 photo caption: aforementioned fjords in Norway and NZ, or is it NZ and Norway?
Geoff: 2.5 days in Norway, barely a whiff. A little bit like when the somelier, opens the bottle of wine you ordered and pours you the taste to make sure it is okay. Well, we now know that we want to buy the whole case, so we will be back. It looks like the perfect place to take a summer or fall bicycle tour. The taste that we savoured included some incredible mountain plateaus with alpine lakes and rivers everywhere. Taking the train, you get to see a different perspective compared to a highway that is often lined with homes and commercial activities. The high plateau between Oslo and Bergen is full of small cottage communities. On the day that we returned, we would see people get on the train with their fishing rods in one 5 building lake village and get off 3 lakes later to try their luck again. Very cool. .
photo caption: Myrdal station, and Oslo City Centre
Another wonderful thing about the train is the opportunity to meet people that you obviously don't get in a rental car. On our return trip we didn't have a reservation and the train filled up so we ended up in the cafe car and met a wonderful family from Oslo that we chatted with for about 3 hours. The mom was reading Thomas Friedman's latest book the World is Flat, a good sign that she would be open to conversation. She and her teenage kids gave us a great overview about the Norwegian mentality that keeps them rooted to home; mainly out of the belief that they have the highest quality of life in the world. With gigantic oil reserves and the most comprehensive social welfare system, she also told me that it can breed a certain level of contentment that can manifest as a lack of ambition. The dark side of no poverty!
While nothing bores people more than tourist tales of the $5 coke in Paris, we were prepared but still shocked at the price levels here. It is much cheaper to eat out for every meal in Vancouver than buy groceries in Oslo- recently rated the most expensive city in the world. Good place to blow your travel budget fast, but worth every kroner. Stunning harbour to boot
photo caption: cruising out of Oslo through the fjords, and my chosen seat for the trip
---
location:

Copenhagen, Denmark


date:

10/20/2006

Laura's thoughts: It's already time for our last entry from Copenhagen, and yet, fortunately I am one of those people for whom time does not fly. Our experience here has been so rich. How could it have been only 8 weeks? 8 dinner parties, 8 concerts, 8 yoga classes, 8 museum visits, 8 good books read, 8 scandinavian body treatments, and 8 indie films later, I am beginning to feel like a veteren of this place. You know you've been in Denmark a while when:

- You purchased all of the ingredients for dinner from only one grocery store!
- You biked rather than drove the 40 pound box of clothes you are shedding for the rest of your trip to the post office
- Your local barista knows your name and your favorite drink
- You found out about a cool community event even before your hip, cultured hosts knew it was happening
- You said "unskuldt" (excuse me) to a stranger and they actually moved out of the way rather than turned around to see who had just hurled up their breakfast

However, we were not always so acclimated to Danish life. It is funny now to reflect back on the blunders:

- When Geoff, master transportation planner, missed his stop on his first day of work because he did not know he had to open the train door himself
- When I thought I was being clever purchasing pinenuts in bulk rather than buying the 1/8 pound bag for $10, and a tablespoon worth ended up costing me $6
- When I waited in line for ten minutes at Copenhagen's most famous bakery only to learn that I could not be served without having taken a number at the door, and thus waited another ten
- When we thought our host was serving us rodents for dinner and, in fact, she had said she was serving us "mais" (sounds like mouse)
- When Geoff brought back a ridged cucumber for our curry dinner thinking it was a zucchini

We have come a long way and we have learned so much about this wonderful country. Our dinner parties have given us the opportunity to engage in truly meaningful political exchange with several interesting people. And what has struck me most about this culture is the incredible equanimity that filters into all Danish attitudes. Bosses are open to criticism from their employees and make marginally more income, children call their parents and teachers by first names, most people's dressing style is understated no matter their wealth, and men truly treat women as equals! The Danes, even more than the rest of the world, have incredible knowledge and interest in North American government, seem well travelled and curious about the world and, yet, possess a refreshing contentment with life in their own country. They recognize and appreciate the astounding quality of life that Denmark offers and now we do too.

photo caption: Camilla and Anders (same light fixture as us!), Tina and Mads
---
location:

Stockholm, Sweden & Helsinki, Finland


date:

10/29/2006

Laura's thoughts: As I stare, unfathomably, out of my train window, at the snow covered forest of Eastern Finland, I still do not wonder why we chose to leave sun-drenched Arizona to explore Northern Europe on the brink of winter. After all, it feels so much more authentic to enter the Russian tundra in frigid conditions (well OK, we are only going to St. Peterburg and it's 30 degrees fahrenheit, but why not use a bit of literary license for dramatic effect?). Having just completed The Time Traveler's Wife, it seems only appropriate that our journey has us rapidly chasing time and seasons lately. In only 8 days we have travelled through two time zones and changed the clocks back an hour for daylight savings time, so we have "Come Out Even" to use a Seinfeld euphemism. We have also left the 65 degree Indian Summer of Copenhagen for increasingly more inclement weather, but I dare not complain.

Stockholm greeted us with a warm sunset, peeking out through overcast skies, which effectively lit the rich ochres tones of the city's architecture beautifully. Perhaps this Swedish capital is my favorite urban area so far. It's 17 islands offer expansive views of magnificent buildings lining several wide boulevards throughout the city. There seems no better word to describe it's majesty than GRAND. Each turn down every cobbled-stone street provides more eye candy, especially at night when the narrow alleys are strewn with gas lanterns and torches. I wish we'd had more time here, but I'm grateful to continue building my list of places to which we must return one day.

photo caption: Gamla Stan (oldest square in Stockholm), and sculptures on Museum Island, Stockholm

Helsinki impressed in a different way. This city also has a great quality of open space since large plazas, parks, forests and shoreline abound. It may be obvious by now that our travels have focused quite heavily on architecture. And in this arena, Helsinki certainly did not disappoint. Old stone churches are mixed with radical glass and steel structures in the same neighborhoods. Elements of baroque, art nouveau, post modern, and even futuristic design can be found. In Helsinki, we also visited 2 of the 5 design/architecture museums of our trip so far. One featured Earo Sallinen whose career was incredibly prolific though too short (he died at 51). Since 13, he lived and worked in the US and designed many iconic buildings there: JFK's TWA buiding, the St. Louis arch, the Dulles airport and much of the Yale campus. His courageous imagination and fierce work ethic were inspiring to say the least.

photo caption: sampling the local markets, rice pastries and smoked herring

In Finland, we also had the treat of staying with Thomas Nordstrom who's been our good friend and bike advocate ally since we met during the fall of 2001 in Flagstaff. He gave us the local's view, though his was a bit outdated not having lived in Finland for the past 8 years (for instance, he said there would be no coffee culture there when in fact every corner of Helsinki now sports a typical yuppie cafe). Not a latte lover himself, this oversight was easily forgiven and he more than made up for it by introducing us to everything from Finland's national parks and fortresses to his favorite local fare and his charming family. So, after another week of traveller's ease, it is finally time to embark upon lands and customs more unfamiliar. While we have heard tales of Russain border nightmares, our guard immediately dispelled the myths by commenting on the Indian visas he saw in our passport and sharing stories of his own travels there in 2004. I hope his smiles and forward nature are a sign that Russian stoicism is softening. We'll soon find out...
---
location:

On the way to Russia


date:

10/29/2006

Geoff: I never met a Dane I didn't like. I left Copenhagen yesterday after returning from Helsinki to present the findings of the evaluation that I conducted. The project was looking at how user-friendly their public transportation system is for visitors. Therefore, I had to be very critical, which can be a little uncomfortable when you are presenting to the directors of those companies. That being said, I think that it was well-received and somethings might actually be acted upon...

The whole visit and work stint exceeded my expectations. While I think that I pulled my weight and contributed something useful, I gained a broader perspective about land use and transportation planning that I now have several months to ruminate upon and hopefully be able to apply to the North American context. On top of that, we got to meet a lot of cool people and make new friends. I know that most of the rest of journey will not offer us that level of opportunity to get a glimpse into people's lives from the inside, so we will value it all the more. We used to be teased in Flagstaff and Vancouver for constantly being on the go and being social and an extended period with just the two of us would be a welcome change. Maybe that will come, but so far our engagement calendar has been tres, tres full.

photo caption: Copenhagen memories- uplit bike lane, 17% wind power

Doing all the travel that we did on weekends, it was very interesting to return to Copenhagen and see it in a new light. Unlike Stockholm, Oslo, and Helsinki, Copenhagen never feels touristy or tourist driven. The old city centre is charming and incredibly vibrant, which I think properly represents the onus they place on socializing and conversation, and beer and coffee. Of course the bicycling is terrific. Every day I rode the 7km to work being passed by small children, elderly people towing small children, and just about everyone else- all because I hate to sweat in work clothes. On one of my final commutes home, I tossed aside my sweat phobia and two months of restraint and raced the throngs of cyclists at every light. I arrived home drenched, but I think that I passed about 200 cyclists in the 25 minutes and was only passed by two 12 years old girls. Probably the only racing I will do all year- I know it sounds pathetic but it was fun.

photo caption: bike mural on Norrebrogade in Copenhagen, and Thomas demonstrating our quandry as non-cellphone owners

For the past six years we have been cellphoneless, much to the chagrin of our friends, and our superiority complex is now taking a beating. We now have to admit that it is hard to make plans when everyone is removing payphones andwe don't have a landline or our beloved wireless. Anyway, we have now left the comfort of not lugging our big bags around and we are untethered again. While I have been trying to lighten the load of my pack, I am still driving Laura crazy with my grumbling, so I am considering a monklike approach towards minimalism once we head south in a weeks time. (Helsinki and St.Petersburg are at about the same latitude as Whitehorse, Yukon so it makes sense that there is snow on the ground.) It is a unique feeling, if temporary, to not be needing or thinking of buying things- coffee and new underwear excluded. Who knows what may come of having some additional mental space to play with.
---
location:

Saint Petersburg, Russia


date:

10/01/2006

Geoff: We planned this trip knowing that "comfortable" would be a relative term that we are going to try and challenge on both sides of the spectrum. Today comfortable meant getting to the right Metro line and then connecting with the correct minibus line, which are only written in the Cyrillic alphabet, to make our way 1.5 hours south to Catherine's Palace- which also known as the Tsar Selo. Living in the moment for the past two months has been great, but it also translated to doing very little research about visiting St.Petersburg/ formerly Leningrad/ formerly Petrovagrad/ and originally St.Petersburg. We had been lulled into a false sense of security by the ease of travelling through Scandanavia as an English speaker. Although bad eighties pop plays here like every where else, nobody speaks English- FINALLY. Unless you have a good sense of familiarity with the cyrillic alphabet and some basic russian phrases you are left with gross gesticulating to make your self understood.

The payoff for us is the sense of accomplishment that comes from confronting the stresses and awkwardness of the "unfamiliar" and getting where we want to go. Which in this case happened to be one of the lavish summer palaces established by Peter the Great in the early eighteenth century. The focal point of this one is the Amber Room, where all the wall panels are made up of a mosaic of different tones of amber. Neither of us had ever seen anything like it. The original disappeared during 1941 when the Nazi's occupied the grounds. It never turned up again and from 1979-2003 it was recreated to the original specs with the financial support of a German energy company. Obviously in 2006 many foreign visitors make their way here but on November 1st we appeared to be the only non-Russian speakers here. Sure we could have visited Russia in June when its parks and gardens are in full bloom, but it is much more stereotypical to trudge along the streets and canals in snow and slush.

Nonetheless, the myths are debunked for us, and the colourful and rich culture is evident everywhere. (even if we can't read what it says, it looks cool.)

photo caption: the Admiralty Building, and Peter the Great loved Amsterdam so...

We love brew pubs. Therefore, we had to hit one of St.Pete's 3 brew pubs tonight to herald in our ninth anniversary. You can tell a lot about a town by their local brew pub. This one has a hostess that takes your coats, 2 spanish guitar players in the lobby area and more staff than customers in the beautiful vaulted brick ceilinged restaurant. Now, I have always had nothing but praise for the 2.50 happy hour pint at Pay'n Take in Flagstaff, but considering their normal pint prices are $5, for the equivalent of $2,10 you got a LITRE of the house wheat beer and fried bread sticks until 9 PM. Neither of us has been able to figure out the sustainability of the capitalist model here yet.

Laura's thoughts: How do I begin to describe a five day visit to a country where waiting in queue for an art museum almost brought people to fisticuffs, where it took us three attempts to successfully purchase beer from a convenient store, and where the veggie dumplings (as featured on the package photo) were filled with pork. There were no shortage of blunders for us here as we clumsily negotiatied our way through a country for which, as Geoff said, we were totally unprepared. We arrived short of rubles, two down coats, two pairs of gloves, knowledge of 36 cyrillic letters, and a guide book, yet we were still able to acquire what seemed like quite an accurate picture of this place. And the misteps of this phase of our journey are exactly what we signed up for!

For years, I have been drawn here by a curiosity to explore my heritage as well as a fascination with St. Petersburg's thriving artistic history, being the birthplace of everyone from Shostakovich, Kandinsky & Pushkin to Nabokov. So, I knew that my trip to Northern Europe would not be complete without this easy jaunt over to Russia (arrival by 5 hour train ride from Helsinki and departure by 3 hour flight to Cologne). However, short distances aside, the journey did come with its price. Visas took two weeks and $350 to arrange in Copenhagen, another $40 and a day of beauracracy in Russia was required for our bed and breakfast host to "register" us upon arrival, and a final painful $250 for extra luggage was squeezed out of our wallets as we left :( But I can only believe that it was worth it to add some extra patina (to use Geoff's word) to our adventure's palette of experiences. And that it did.

As I waxed poetic on prior web entries, I exhausted terms like grand, expansive, and magnificent. So, I have struggled to find an original description for St. Petersburg, which is all of those things, and what I have come up with is: palatial. No structure seemed too massive or elaborate to suit the fancies of the 18th century Russian aristocracy. And while the days of such excess are over and these buildings now house everything from schools to hardware stores, Russians still take great pride in keeping the opulent facade of their city pristine. Therefore, scaffolding and other evidence of infrastructure repair was everywhere. These liberal expenditures were in contrast to the rusted, squeaky buses leftover from the 60's and we experienced this kind of contrast in many other facets of Russian life. People are fastidious about their appearance with no cost spared for fur coats, hugo boss suits, hair and make-up. However, these same Russians paying North American prices for their vanity items may live in very simple quarters with no car or other luxuries (with the exception of the now mandatory personal cell phone and computer) because their salary increases have been far from commensurate with the escalating cost of real estate, etc.

photo caption: plunging to the depths to the Metro platform, and the Art-Nouveau Singer building, St. Petersburg, Russia

Leftover from the pre-Soviet era is a deeply ingrained awareness of heirarchy within society that is quite opposite the level playing field we witnessed in Denmark. In fact, I have decided that Russia may be the exact antithesis of its Scandinavian neighbor. One obvious difference is the shocking disparity of wealth in Russia. Also, unlike the fraternization between bosses and workers in Copenhagen, Russian coffee shop managers don jackets and ties while they pace menacingly up and down their establishment intimidating both their employees and customers into correct behavior. Another striking contrast was the aggressive elbowing for a place on the train and rampant jay-walking compared with the staunch obedience of Danes who honor every crossing traffic signal as if it were cardinal law. Finally, most apparent to me was the Russian reverence for the GENIUS. The city sports huge statues of every Great Russian in triplicate. Night after night, symphony and opera bills dare not program anything less standard than Brahms or Tchaikovsky. And whole museums are erected simply so one can touch the pipe that Dosteyevsky smoked.

Perhaps it is unfair for me to formulate such insights about a place I only experienced so briefly, but I find it irresistible to do so as I travel to places increasingly more "other". So, please indulge me while simultaneously taking my observations with a grain of salt. (Geoff certainly does).

Again our trip was greatly enhanced by our association with a local. She was a friend of a friend of my Uncle Len. Klara, a professional musician herself and mother of Serge Malov (slotted to be the next Itzach Perlman with his recent Vienna Phil concerto debut at age 23), entertained and guided us daily through palaces, museums, restaurants with only Russian menus, and finally the ballet. Her bubbly, generous spirit confirmed our original perception that stoicism is dead in Russia (though some still hold steadfast to the facial grimace and surly service). And on our final evening we celebrated our ninth anniversary in typical Russian style with free fourth row seats to Prokofiev's Cinderella. It was as dreamy and exquisite as you could possibly imagine.

So, we are certainly leaving St. Petersburg satisfied with a few lessons learned along the way. We still need to get rid of more stuff.. (no more fees for excess baggage)! And though we thought that it was sophisticated and saavy to combine work, study and pleasure on this trip, and we knew that we would avoid tourist mayhem by travelling during shoulder seasons, we are now ready to concede that we are not afraid of some pure holiday time this year as well. With Geoff's Copenhagen project completed, my last European recitals and classes ending on November 18, and two weeks of slogging through slush, snow and 3 below behind us, we are ready to book the last few months of our adventure in the Caribbean and Central America. So, fortunately our tickets are not yet purchased after Thailand in March. Anyway, feel free to laugh at our thin skin. At least it will be more tan when we return.
---
location:

Cologne, Germany


date:

11/04/2006

Geoff: It's mild, the trains are beautiful and I can at least read the alphabet so we must be back in Germany! Oh how nice to be met at an airport by a friend. We are staying at Camilla's apartment, with a bed fit for a Kaiser. We are only here for two nights and days before we catch a night train to Milan, so there are two ways to treat this time: by going full throttle to see "the essentials sites"; or as a bonus round where any little taste is savoured. I prefer the latter. Laura is teaching a master class today, so I was on my own to wander aimlessly and randomly.

The central city is one of the most livable places that I have ever visited. Tons of pedestrian only streets- happy throngs socializing, and some monumental buildings to sweeten the pot. The Cologne Cathedral is the covergirl and even my wariness of focusing disproportionate attention on churches was not able to dampen the sense of awe that hits you as you come into close eyeshot. On the other hand, much of the postwar architecture is nondescript at best yet it does not take away from the pleasure of ambling through the many streets cafes and restaurants. In fact, I had my best cappuccino and sandwich at a small friendly hang for 6 euros in the coolest area in the city (I found out afterwards) sometimes lucky turns determine the experience.

We finished the day with the sort of concert that I think of as only happening in Germany: contemporary classical music (Stockhausen complete with 6 costumed percussionists and Claire as the Catwoman flutist) in a 900 year old Roman church at 1 AM. Proof positive that concert going experiences, for me, are visual and audible.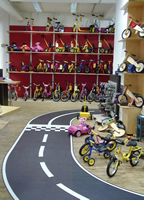 photo caption: sure Cathedrals are cool, but how about this kids only bike store? Cologne
---
location:

Tuscany, Italy


date:

11/12/2006

Geoff: Hmmm, which do I love more, Italian food or bicycling? One week in Lucca and the surrounding environs provides the proof that risotto, gnocchi, focaccia washed down with olive oil and chianti are prioriti numero uno. If it is possible to have a vacation within a 10 month trip, then this was it. The cycling, running, and writing has been put on hold while we have soaked in the tuscan life. This has been my first trip to Italy and it has been enhanced by the total novelty to be able to meet up with both sets of parents. Aside from the usual added rigamarole of planning for 6 instead of 2 it has been a breeze.

photo caption: Torre within the walled city, and family cocktails, Lucca, italy

Laura's thoughts: When a week's highlights include a hike on the Italian Mediterrean coast, an opera recital in the town where Puccini was born, and a boat ride through the Grand Canal of Venice you know that you have had a great holiday. And, as Geoff mentioned, food was certainly our focus, as it could only be on any visit to Tuscany. Particularly fun was our nightly family ritual of red wine, pesto, cheese and bread shared in our spacious Lucca apartment, where we could hear passionatley sung arias off the balcony, every evening at 7 pm. After 17 years, I loved returning to this country of my ancestry, where I could enjoy the anonimity of being assumed a local. However, along with these pleasant memories I have taken with me a less pleasant souvenir of poisin ivy contracted on the Cinque Terra trail.

photo caption: Vernazza, Cinque Terra and Venice's Grand Canal, italy
---
location:

Ljubljana, Slovenia


date:

11/16/2006

Laura's thoughts: So, it is a bit challenging to type with 168 red, inflamed and itchy spots on my hands and arms; however, the inspiration to write has called. We have just left Slovenia, which was a last-minute planned detour that we are now thrilled to have taken. Through a flutist colleague, I received an invitation to lead a half day yoga, breathing and relaxation workshop for students at the Academy of Music in Ljublana which timed perfectly with our parents departure from Venice. So, after only a quick three hour train journey, we found ourselves in the heart of the mountains in former Yugoslavia. Only the fourth European city on our trip which I had previously visited, this one certainly surprised the most. It was fascinating to see this country after having experienced it in 1985 on a youth orchestra tour, during Soviet rule. While this region has always been the most affluent part of Yugoslavia, it was still amazing to find Ljubljana the cleanest, hippest city in all of Europe. Every where you looked, in this home to 50,000 students and 200,000 more residents, were trendy dressed co-eds, restaurants with funky decor, and outdoor cafes, even in November, with live Pearl Jam cover bands. I also find it funny that it was only here that we were able to find the first affordable sushi and trustworthy Mexican food of the trip. And like most of Europe, this city has succeeded in cleverly transforming old abandoned structures into interesting modern art spaces. Since August we have been to an 18th century Danish water works plant turned glass blowing studio, a contemporary jewelry show in a 16th century church tower, a photography exhibit in an underground castle from 15th century Hapsburg rule, and an avent-garde Stockhausen performance in a 12th century German cathedral. This juxtoposition of old and new is my favorite aspect of European travel.

photo caption: Ljubljana's old city centre, and the best train ride yet! Alpen Express, Austrian Alps

And now, we will conclude this phase of our trip in style, on a viewing car through the stunning Trans Alps route from Slovenia, via Austria and Switzerland, to France. With crisp blue skies, first class seats, and Schnieder Weisse on the menu, I can think of know better way to get to Paris, where we will spend our last weekend in Europe.

But before we arrive in the birthplace of romance, we have a bit of borrowed time in Zurich while we wait for the night train. So, since it is dark and I have been here before, I have decided to relax over a latte, while Geoff checks his bag, for an extravagent $7, while he runs around this unfamiliar town for two hours. As you may have surmised, the heft of our luggage has been our only constant source of struggle as we travel. And though, after our second shedding, we are at least 40 pounds lighter then when we commenced the trip, our duffels still resemble small children both in size and scope of responsibility. So, Geoff continues to fashion ways to minimize this burden while I have now resigned myself to carrying this albatross happily since it affords me such an awesome experience.

Thus, I find myself alone (avec deux grand sacs) for the first time in nearly a month and I am revelling in the solitude. Only in such moments can I indulge in the evil of a decaf Starbucks coffee (forbidden by my independent-cafe, die-hard husband). And while I can not imagine this journey without the array of personal interactions it has offered, my people-watching and eavesdropping vantage point is much imporved when I am on my own. That said, I find myself using this time to relect on all of the incredible people we have met thus far.

photo caption: our three sets of "parents"; our permanent state in Europe as the eternal guests bearing wine

Of course our Danish hosts, Marianne and Gregers, come first to mind. We had the unique chance to reconnect with them in Tuscany when all three sets of our "parents" met for the first time. What a riot! Then, there has been the array of old music friends that I have had the pleasure to visit along the way. In Copenhagen, there was Russell Itani and Carol Conrad, both of whom extended endless generosity and local tips; then in Stockholm, we had dinner with my old Eastman friend, Joanna Markson, whom I had last seen in 1990! And despite 16 years with no contact, we learned that besides curly brown hair; a Jewish heritage; tall, lean, bright, chatty husbands; and our love for the flute, we also had in common over one hundred novels that we had read in the past decade, as I could see from her bookshelf.

Next, I think of the new friends that we have made through Geoff's work and my recital/workshop experiences. The image of us which is now most familiar to me is that of the couple knocking on strange doors, bearing wine in hand, as ubiquitous dinner guests. How lucky we have been. Also wonderful has been making the acquaintance of several creative, resourceful flutists who have made my teaching and playing here possible. The founder of the Danish Flute Society, Christine, impressed me with her thorough organization of a 12-hour weekend workshop with only a month's notice. She has also pursued other fascinating endeavors such as performing trio music with a weather theme to accompany meteorological poetry recited by a Danish news celebrity. A dozen such concerts have been presented in libraries which feature his new book of famous weather sayings. Another inspiring flutist, carving her own independent career in Cologne since 1980, is American-born, Camilla Hoitenga. A brief meeting, amidst 4,000 flutists in Nashville, eventually led to a few great days of exchanging artistic and pedagogical ideas. The next treat was meeting Matej Zupan, who donned the cover of Flute Talk magazine in the US, many years ago, due to his inventive flute activities in Slovenia. And finally, Sandra Howard, another American flutist who moved to Paris almost three decades ago, generously shared her home, her charming family, her tasty fondue and her students with me. So, just after resigning from my comfortable university position, it has come as welcomed encouragement to connect with such courageous musicians who have each followed their bliss towards unique and rewarding careers.