Music Products
Echoes of a Blue Planet CD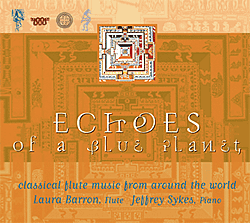 Cameron Wilson Celtic Partita
Lukas Foss Three American Pieces
Katherine Hoover Kokopeli
arr. Trevor Wye Latin American Folk Songs
Astor Piazzolla Tango Etude No. 3
Francois Borne Fantasie Brilliante sur Carmen
Albert Roussel Joueurs du Flute
Bela Bartok Suite Paysanne Hongroise
I am fascinated by the similarities present in seemingly disparate folk music traditions. So, it is truly appropriate that my first solo recording features classical works inspired by such traditions. It is my hope that with the repertoire that I have selected, listeners will be inspired by a sense that the human spirit echoes through this vast blue planet.
How to Order
Echoes of a Blue Planet, Mandala Records, 1999.
$15
Sites for purchasing Echoes of a Blue Planet
fluteworld.com
fallshousepress.com
.................................................
Playing With Fire CD
This CD includes 19 gems of musical merit from the vast flute etude repertory. Selections are drawn from classic collections such as Andersen Opus 15, the Boehm and Karg-Elert Caprices, as well as from less well-known collections by Soussman, Demerssman, and Furstenau. Originally recorded as a companion for the Carl Fischer publication, Expressive Etudes for the Flute, Playing with Fire has now been produced as a stand-alone recording. These works are worthy of consideration as major concert pieces much like the violin Caprices of Paganini or the piano Etudes of Liszt.
How to Order
Playing with Fire, Mandala Records, 2002. $15
Expressive Etudes for the Flute – Booklet with CD
Works by Altes, Andersen, Boehm, Demerssman, Furstenau, Karg-Elert, Kohler, Prill, Soussman, and Taffanel
This book has been created to assist student and professional flutists alike in their journey towards becoming masters on their instruments while truly enjoying the process. Therefore, I have carefully selected, amongst the thousands of etudes available to us, nineteen gems of substantial musical merit which lend themselves to expressive interpretation. It is also my hope that these can be studied and performed as concert pieces, as I feel that each is deserving. "Expressive Etudes for the Flute and its companion recording should be found in every flutist's library. Laura Barron's excellent performance suggestions and virtuosic interpretations of 19 varied, musically challenging etudes will offer inspiration to players of all ages and levels. She has done the flute community a great service by demonstrating so strongly the value of the etude in our repertoire." Leone Buyse, Professor, Rice University, former principal flute of the Boston Symphony Orchestra.
How to Order
Expressive Etudes for the Flute, Carl Fischer Publications, 2003. $20
Sites for purchasing Expressive Etudes for the Flute
presser.com
fluteworld.com
muscistudents.com
hornplace.com
vcisinc.com
opus-two.com
dronpub.com