Our Outreach


OUR SCHOOL CONCERTS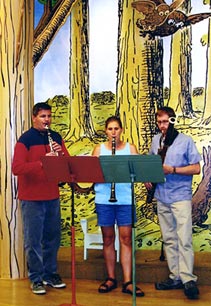 The Painted Sky Music Festival was thrilled to present its first series of educational programs in the Flagstaff school system during November of 2003. Festival directors, Michael Sullivan (clarinetist) and Laura Barron (flutist) were joined by San Francisco pianist, Jeffrey Sykes performing trios by Shostakovich, Copland, and Saint-Saens at the following schools:
Marshall Elementary

Beaver Elementary

Kinsey Elementary
In February 2005, Laura and Michael returned to the schools accompanied by some of their top students at NAU. The NAU Clarinet Quartet (Corey Mackey, Jessica Rotella, Elizabeth Alexsander, and Nikki Hayes) and the NAU Honor Flute Quartet (Sara Finsten, Julia Brown, Michelle Kirchhofer, Hannah Collinsworth) performed with their professors in works by Vivaldi, Doppler, Bizet at the following schools:
Mount Elden Middle School

Flagstaff Middle School
These performances are made possible in part by grants from the FlagstaffCultural Partners and the Flagstaff Community Foundation.
If you would like the Painted Sky Music Festival to perform at your school please contact laura@laurabarron.net

OUR OUTREACH CONCERTS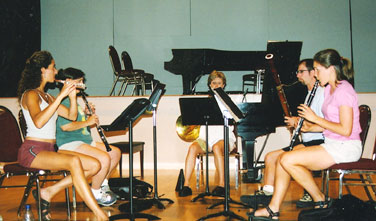 Another educational program of the Painted Sky Music Festival brings one chamber music program to the NAU Summer Music Camp students each summer at no cost to the students. In 2004, we presented our Paint By Numbers program to 300 junior high music students at NAU's Ardrey Auditorium. The concert featured the ever-popular Saint-Saens, Carnival of the Animals with mystery guest narrator and Flagstaff City Councilor, Kara Kelty. Also performed were works by Mozart and Janacek for flute, clarinet, oboe, bassoon, and horn. The MTNA COLLEGIATE WINNER, Jared Scott was also featured in a Bach Cello Suite.
This season, festival musicians will repeat the Contrasts program again in Ardrey Auditorium for the Summer Music Camp students on Thursday, June 23 at 7 pm. This concert is not open to the public.
This program is made possible in part through the generous underwriting of APS.

OUR HOUSE CONCERTS
House concerts provide our festival the opportunity to fund raise while outreaching to new audiences through the generosity of our patrons who offer their homes for these events. While having a great time playing chamber music, conversing with the crowd, and eating delicious food, we have succeeded in raising a large percentage of our private donations during these evening.
2003 House Concerts included:
2004 House Concerts included:
2005 House Concert:
Jim and Sara Gibson's

"Rites of Spring"

musicale in Flagstaff, AZ, May featuring Vivaldi's Spring from the Four Seasons, Schubert's Shepard on the Rock with our host Sara singing soprano, and other springy bon-bons for clarinet and piano.

OUR RUNOUTS
As we hit our stride in our third season, we have the luxury of extending our offerings further afield. We have always hoped to bring some of our programs to other communities in Northern Arizona and we will finally have the chance to do so in 2005.
A combination of the Bright Music and Water Colors programs will be repeated at Embry Riddle University in Prescott on Saturday, June 18 at 8 pm. For details see:
The Contrasts program will also be repeated at the historic La Posada hotel in Winslow. Click on OUR CONCERTS for details.