This text will be replaced by the flash music player.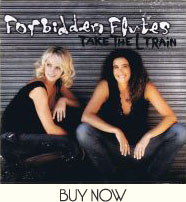 Take the L Train follows the less-beaten track traveled by innovative 21st century crossover musicians such as the Kronos Quartet and Keith Jarrett. In search of a fresh voice that would capture Forbidden Flutes' precocious spirit, Laura and Liesa thoughtfully collected and created the music for this recording over a period of five years. Their versatility is best characterized by the tracks, Purple Phobia, a Prokofiev-inspired jazz original, and the Foxtrot Fantasy, a theme and variations on classic jazz standards composed in the Doppleresque-style popularized by two flute and piano ensembles of the 19th century. Perhaps the first flute duo ever to arrange music by Radiohead, Forbidden Flutes has also brought new life to the work of Astor Piazzola.
Adding some Latin flare to this CD, they commissioned New York composer and session musician, Nic Cowles, to write Las Flautas Prohibitas which sets this album on fire with the help of their propulsive rhythm section.
A true pastiche of musical tastes, this collaborative project is as fun as it is sumptuous.

1. Thinking About You
2. Oblivion-Milonga
3. Foxtrot Fantasy
4. Mood Swingin'
5. Por Siempre Para Siempre
6. La Mlonga
7. Easy Going
8. Moody
9. Coffee Nerves
10. Las Flautas Prohibitas
11. Addendum
12. Purple Phobia
13. It's Not As Bad As It Looks
14. Be Green
15. The Kipper


Jeff Scharf, guitar
Jeffrey Sykes, piano
Liesa Norman, flute
Laura Barron, flute
Laurie Lyster, percussion
William Fawcett, bass
Engineer: Sheldon Zaharko
Assistant Engineer: Graemme Brown
Editing and Mastering: Graemme Brown for Zen Mastering
Mixing: Graemme Brown and Liesa Norman
Executive Producer: John Thiessen
Recorded at The Factory Studios, Vancouver, BC